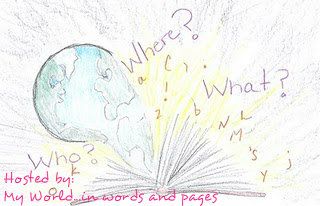 Who? What? Where? is a weekly meme hosted by the lovely Melissa over at My World…In Words and Pages. Each week you tell everyone where you are in the current book you're reading. Who are you with? Where are you? What's going on? Don't worry, no spoilers!
Merissa is recalling a event that took place awhile back after she made a low A on a test. She fell down the stairs, distracted, and bumped the mess out of her head. After receiving a lot of attention from people she didn't know or didn't know well, the guy she's had a crush on since 9th grade finally walked up to check on her. Instead of acting helpless, Merissa acted all tough and said it was only but a scratch. Now beating herself up for not being the damsel in distress, she realized that he may actually care about her.

TWO OR THREE THINGS I FORGOT TO TELL YOU by Joyce Carol Oates
Where are you in the book you're currently reading?