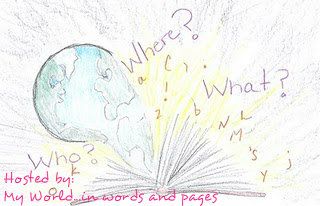 Who? What? Where? is one of my favorite weekly memes hosted by Melissa at My World…in words and pages where you give a little bit of information about where you currently are and what is happening in the book you're reading. Don't worry, no spoilers!
This week:
A category 3 hurricane just hit Rhine's prison, Governor Linden's house. She figured this would be the perfect time to attempt to escape. Unfortunately, the winds were too strong and she ended up breaking a leg, ribs, and other body parts in the storm. Linden's creepy father (her new father-in-law), Housemaster Vaughn, aka the doctor taking care of her, has basically just threatened her and told her if she valued her life, she'd never try to run away again.
WITHER by Lauren DeStefano
Housemaster Vaughn is beyond creepy and I seriously hope Rhine doesn't try to escape the mansion again. Who knows what would happen to her! Definitely sitting on the edge of my seat right now.