Waiting on Wednesday is a weekly meme hosted by Breaking the Spine that spotlights upcoming books that we are eagerly waiting to read.
This Week: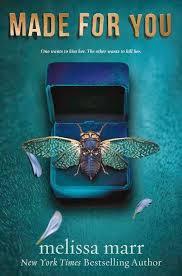 Made for You by Melissa Marr
Release Date: September 16, 2014
Publisher: HarperCollins
When Eva Tilling wakes up in the hospital, she's confused—who in her sleepy little North Carolina town could have hit her with their car? And why? But before she can consider the question, she finds that she's awoken with a strange new skill: the ability to foresee people's deaths when they touch her. While she is recovering from the hit-and-run, Nate, an old flame, reappears, and the two must traverse their rocky past as they figure out how to use Eva's power to keep her friends—and themselves—alive. But while Eva and Nate grow closer, the killer grows increasingly frantic in his attempt to get to Eva.
For the first time, New York Times bestselling author Melissa Marr has applied her extraordinary talent to contemporary realism. Chilling twists, unrequited obsession, and high-stakes romance drive this Gothic, racy thriller—a story of small-town oppression and salvation. Melissa's fans, and every YA reader, will find its wild ride enthralling.
Why I'm Waiting
Okay, I'm kind of over the whole "girl wakes up with no memory" thing. BUT, after watching the latest ARC party with the Epic Reads girls, I decided this book should be on my TBR list. It should. One of my favorite shows is Teen Wolf and Lydia, a banshee, can predict deaths and it's so utterly fascinating. So why wouldn't I like this book? Plus, this is like a murder mystery, which is one of my favorite type of YA books to read. Aubry said this book was amazing and I'm going to go with that feeling and snatch this up the moment it hits shelves.
What are you waiting on this week?