Waiting on Wednesday is a weekly meme hosted by Breaking the Spine that spotlights upcoming books that we are eagerly waiting to read.
This Week: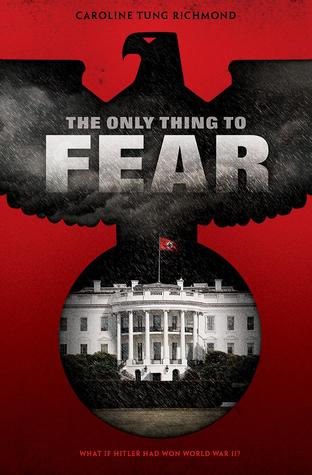 The Only Thing to Fear by Caroline Tung Richmond
Release Date: September 30, 2014
Publisher: Scholastic Press
In a stunning reimagining of history, debut author Caroline Tung Richmond weaves an incredible story of secrets and honor in a world where Hitler won World War II.
It's been nearly 80 years since the Allies lost WWII in a crushing defeat against Hitler's genetically engineered super soldiers. America has been carved up by the victors, and 16-year-old Zara lives a life of oppression in the Eastern America Territories. Under the iron rule of the Nazis, the government strives to maintain a master race, controlling everything from jobs to genetics. Despite her mixed heritage and hopeless social standing, Zara dreams of the free America she's only read about in banned books. A revolution is growing, and a rogue rebel group is plotting a deadly coup. Zara might hold the key to taking down the Führer for good, but it also might be the very thing that destroys her. Because what she has to offer the rebels is something she's spent her entire life hiding, under threat of immediate execution by the Nazis.
In this action-packed, heart-stopping novel of a terrifying reality that could have been, Zara must decide just how far she'll go for freedom.
Why I'm Waiting
Okay, you guys may not know this about me but I am a huge WWII junkie. It was my favorite thing to learn about in history class. If you ask me some random factoid about it, I could probably tell you. Anybody watch The World Wars on History a couple of weeks ago? So good! But back to this book. THE ONLY THING TO FEAR sounds awesome! That title! A world where the Axis powers won? I could not even imagine. The fact that this book is written by a girl has me even more excited, yay history fans!