Top Ten Tuesday is a weekly meme hosted by The Broke and the Bookish. Each week you are given a general topic that you must pick your top 10 choices for. As easy as that sounds, it's proven to be quite the opposite! This is my second week joining in and I'm glad I finally decided to!
This Week's Top Ten Tuesday:


Top Ten Things on My Bookish Bucket List
1. Attend BEA (Book Expo America)
Just look at this awesomeness! I've only ever attended one bookish event/conference/thing and it was an absolute blast. But it was relatively small compared to BEA. BEA is the holy grail of book conferences and everyone I know who has gone, has absolutely loved it, and will attend again. I want to meet up with some of my favorite bloggers, attend parties, meet authors & publishers. It's definitely my kind of event!
2. Visit all of the movie sets of famous YA book to movie adaptations
Since I'm huge movie buff, particularly in the realm of YA book to movie adaptations, I think it would be so much fun to visit where all of these great movies were made. From the Hunger Games set in North Carolina & ATL, to King's Cross Station in London. I want to visit them all! Road trip!
3.Meet all of my blogging best friends.
I've "met" some amazing people in the blogging community that I would love to actually meet in real life. These people have become my best friends and one day, I WILL meet them for coffee and bookish gabbing.
4. Buy a house with a library. Secret passageway is a must.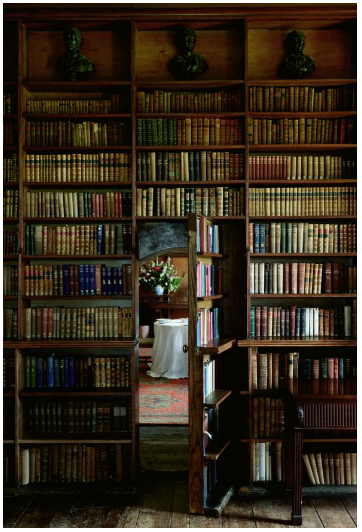 Does this one even need explaining? My room right now is overflowing with all my magnificent books. And since I already own both the original hardcover and paperback versions of Harry Potter and want all the new cover editions, I'm obviously going to need more room. And the secret passageway, look! How cool would that be? After grabbing a book off my shelf I could sneak away into that lovely little alcove and read the day away. Heaven on earth, honestly.
5. Meet Sarah Dessen
As many of you probably know, Sarah Dessen is my literary hero. She is the reason why I love YA so incredibly much. I've devoured all of her books. And each summer they are my staple beach side read. Her books are realistic and I find a little bit of myself in every main character that she writes. She's like my idol! She also has one of the best twitter handles and she's met Kristen Bell. If I met Sarah, it would be like meeting Kristen, right? Well anyway, one of these days I will meet her. I'm making it happen one way or the other.
6. Finish series I've started
I feel like this picture right there represents all the books in a series I started but never finished. Now that I know about books way earlier than I did before I started blogging, I find myself reading more and more first books in a series, only to forget about the rest of the books when they actually come out. Sometimes we have to wait years before book #2 comes out. And at that point, I forget what happens in #1. Before, all the books were published before I started them. It's time to finish what I've started!
7. Get ahead of my blog. And stay ahead.
There are some bloggers out there that have the superhero ability to get way ahead of their blog. I mean they have posts scheduled out months from now. Why don't I have that ability?! My blog would obviously have more content, I wouldn't feel bad when there are days and days of just nothing on here because I haven't finished a book. And when I start school again in May, I know my reading time will be dramatically cut down. If I can somehow get ahead, I won't have to stress about not having something read, because there will already be posts scheduled. Any tips, superhero bloggers?

8. Think of good discussion posts
How are some of you people so creative?! I think I've written one discussion post, maybe? I can't think of anything to talk about, and when I do, it's something that has already been said and done. I do want to get more interactive and diverse on my blog, so hopefully I can get the creative juices flowing one day.
9. Write a book.
While I'm not that creative when it comes to blog discussion posts, I do have a ton of ideas floating in my head for a potential book. The problem is I have no idea how to write a book. Authors always say they don't know how either, but I start a project and then think it's crap and never come back to it. And if I do stick with it for a little while, I don't know how to make what I want to happen happen. It's a vicious cycle.
10. Pass my love of reading onto my future kids.
Some of my favorite bloggers gush about their kids reading books, picking out books in the store, etc and I can't wait for that to be me gushing about my child. How cute is that?! Readers are the best, and I hope my child is one of them.
What are some of the things on your bookish bucket list? If you participated in TTT this week, leave me a link to your post!
*all images were found on Google