I received this book for free from HarperCollins in exchange for an honest review. This does not affect my opinion of the book or the content of my review.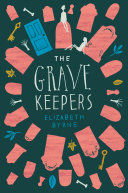 The Grave Keepers

by Elizabeth Byrne
Published by HarperCollins
Publication Date: September 12th 2017
Pages: 320
Format: eARC
Source: Edelweiss

Goodreads, Amazon, Barnes & Noble

Lately, Athena Windham has been spending all her spare time in her grave.
Her parents—owners of a cemetery in Upstate New York—are proud of her devoutness, but her younger sister, Laurel, would rather spend her time exploring the forest that surrounds the Windham's' property than in her own grave.

The Windham girls lead secluded lives—their older sister died in a tragic accident and their parents' protectiveness has made the family semi-infamous.

As the new school year begins, the outside world comes creeping in through encounters with mean girls, a new friend, and a runaway boy hiding out in the cemetery. Meanwhile, a ghost hangs around the Windham property—the only grave keeper never to cross over—plotting how to keep the sisters close to home and close to her . . . forever.
The Grave Keepers by Elizabeth Byrne has been on my radar for months now. The synopsis was so vague and strange and pretty much instantly caught my attention. I had no idea what this story was going to be about but the unknown is what made me want to read it even more.
In this version of our world, everyone gets access to their grave at the age of 13. Your grave has a door and a key that only you can open. It is encouraged that you go and visit your grave often for the rest of your life because your grave is essentially your everlasting home. People decorate their graves and go in them to think, and thus the phrase "Grave Keeper." The Grave Keepers follows two sisters, Laurel and Athena, and another mystery narrator. Laurel is a homeschooled middle schooler and Athena is a junior in high school. Their parents own the biggest cemetery in the area and because of it, they are sort of outcasts.
The book was interesting, but sadly, I didn't think it was wow your socks off great.
The first good, I don't know, 25% of the book is nothing but info dumping. I understand the need for world building but this just went way too overboard. We were getting details about exactly who was doing what and why, what Laurel heard outside ("carpenter bee helicoptering under the eaves") and also all the minuscule things she didn't hear that were going on outside in nature ("leaves sucking in lungfuls of sunlight"). Maybe some people will find this writing style poetic and appreciate it but I got so bogged down I worried I wouldn't be able to keep going. This world was no different than our own aside from the hanging out in our own grave bit so all the descriptive details were unnecessary I thought. Also, in the beginning, the dialogue was choppy and pointless? Nothing really flowed well and nothing eventful happened. It took until way too long for some action, any action, to take place for my liking. Again, this might not bother people but I'm a hit the ground running and fill in the gaps as we go on type person…sooo yeah.
Because we have two narrators in two very different stages of adolescence, this book fluctuated a bit from being more MG geared and sort of YA. Overall, I think we spent the most time with Laurel (the middle schooler) so I'd say this has more an MG vibe. But surprisingly, I thought Laurel was more mature than her older sister. Athena was kind of whiny and had that poor pitiful me thing going for a bit so I preferred Laurel's take on life. I'll also say that the switching narrators was really confusing at times. You have to really pay attention because they don't switch off each chapter, both voices take turns throughout every chapter. In the beginning, I definitely had the hardest time keeping track of who we were focusing on.
If you take out the whole first 30% of the book, I will say the next 70% was better. The overly detailed descriptions stopped, as a reader you start to get a feel of what narrator we're on, and an actual plot took place. Given this, that's why I said I liked it. It was an interesting contemporary (but kind of not) book. This is really vague and I apologize but I'm having a hard time telling you what it's like without spoiling the whole thing. Basically, Athena is trying to branch out and make friends and Laurel, who is homeschooled, makes a friend but under not so normal circumstances. There's some mystery surrounding their deceased sister's death but it's not the focus or anything. Idk, guys. The Grave Keepers was different and peculiar enough you want to keep reading but it wasn't all action, thrills, mystery, or romance or anything like that.
---
TL;DR

Rocky beginning chapters with very detailed descriptions and not a lot of goings on. Tough to keep track of narrators at times. Interesting concept about being in charge of your grave from the age of 13 until death. The second half of the book was better.